---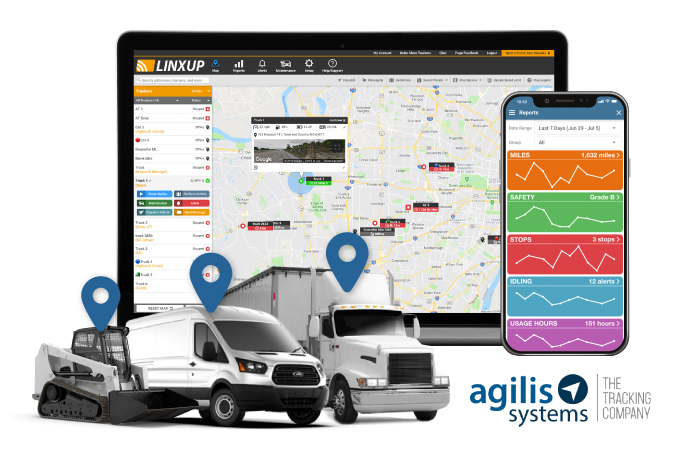 Telematics. It's a portmanteau of the word telecommunications and the French word informatique, or IT, which describes a range of tracking and diagnostic solutions that have unlocked powerful efficiencies, safety innovations, and productivity tools for consumers and businesses alike.
Spurred by the maturation of GPS technology and the near ubiquity of wireless networks and mobile connectivity, telematics solutions are transforming the way businesses of all sizes think about utilizing and tracking their vehicles and other mission-critical tools or equipment. Where businesses have historically lacked the means or been hesitant to pay high prices to monitor or manage these assets, they can now affordably attach durable, low-cost IoT devices to achieve real-time, digital line-of-sight into nearly any aspect of their assets' status, including error codes, maintenance needs, fluid or battery levels, location, temperature, and more.
Investing in the Future of Connected Operations
At Spectrum Equity, we have been closely watching these trends and looking to grow our investments in businesses applying IoT technology in compelling, efficient ways. That's why we are excited to announce that Agilis Systems, a leader in SaaS-based telematics and tracking solutions for businesses of all sizes, is the latest addition to the Spectrum portfolio.  
Combining easy-to-deploy GPS-enabled hardware with user-friendly software, Agilis tracks more than 165,000 devices for more than 45,000 customers who count on its platform to run their businesses every day. Spectrum Equity's experience scaling leading subscription businesses will allow Agilis to take advantage of the large market opportunity, estimated to be $2.5 billion by 2023, that lies ahead of the company and continue to build on its strong track record of profitable growth.

Agilis' customers include many familiar names that you see emblazoned on the sides of the vans and trucks navigating the roads of your town each day; recognizable brands such as Junk King, Bobcat, Molly Maid, Bath Fitter, Edible Arrangements, Servpro, and more all use Agilis' intelligent, easy-to-use solutions to run their day-to-day operations. Additionally, Agilis serves thousands of local landscaping, equipment rental, construction and contracting, HVAC, plumbing, and other home services businesses that want to track and manage their vehicles, assets, and field service teams.
Tracking Agilis' Growth
Since the time when we first started getting to know the leadership team at Agilis a few years ago, we have seen the company exhibit some of the hallmark characteristics of the exceptional businesses we have been fortunate to partner with over many years. Specifically, Agilis has consistently and profitably grown its subscriber base since first launching its telematics solutions just a few years ago. Furthermore, the management team, led by CEO Paul Inman and President and co-founder Naeem Bari, have taken a thoughtful, disciplined, sustainable path to innovating and identifying compelling growth opportunities, with new products addressing new use cases and end markets. We have watched the team and business perform over multiple years, and we are excited to partner with them through the next stage of growth.
Everything at Agilis has been designed to profitably serve even the most difficult-to-access small businesses, so the company is addressing a ripe, large market of hundreds of thousands of companies both large and small. With an extremely efficient customer acquisition strategy, a simple, self-installed solution that quickly demonstrates tremendous value, and a growing set of systems to address increasingly diverse use cases, we see a very bright path ahead for the company. 
Exciting Opportunities On and Off the Road Ahead
Paul, Naeem and the rest of the Agilis team have built an incredibly impressive business around Agilis' core fleet and asset tracking solutions, and we believe the road ahead presents a number of exciting opportunities for continued growth.
As we help the company develop new products, enter new markets, scale operations, and develop additional partnerships, we're excited to work closely with experienced industry operators with whom we have cultivated relationships over many years. Specifically, we are delighted to announce that Drew Reynolds is joining Agilis' board of directors. Drew is a widely recognized expert in the telematics space, with deep experience in corporate strategy and development, and we are excited to work closely with him as we invest in Agilis' continued expansion.
In the future, we see a world in which operators of businesses of nearly any type and size – whether they operate a dozen local lawn mowers, rent out hundreds of battery-powered tools, or manage a few thousand assets and vehicles across vast stretches of land – have constant visibility into and control over their operations using the power of Agilis' platform. We see an ever-growing number of software vendors utilizing Agilis' API to satisfy business owners who want to track and manage disparate, real-time data sets including location data, maintenance data, temperature and moisture data, and more. We see a world in which businesses will stop learning to live without information, and increasingly adopt solutions like Agilis'.
As all of this unfolds and Agilis tracks more of the world's assets, we simply couldn't be more excited to support and track Agilis' continued progress.
For more information on Agilis and Spectrum Equity's growth investment, please read the press release. 
---
The specific companies identified above may not represent all of Spectrum's investments, and no assumptions should be made that any investments identified were or will be profitable. View the complete list of our portfolio companies.